We've found that Safari-themed desserts are super popular right now, which is great news for us! They are a favorite of ours at 12 Oaks Desserts for many reasons. Not only are there so many animals to design around, but there are also many directions one could take the design aesthetic. From cute little cake pop animals, perhaps in a cartoon style or maybe a more realistic likeness to classic animal prints, really the sky's the limit. Certainly, the purpose of the event helps to steer the design, whether it's a child's birthday party or baby shower, or even a fun bachelorette party theme. Here are a few of our favorite Safari-themed creations that we wanted to share with you!
Classic Safari Cake Pops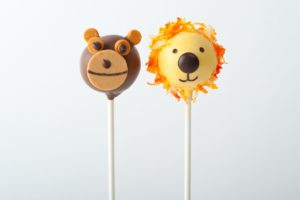 Our Safari Cake Pops have been a staple at 12 Oaks Desserts since our early days in Manhattan. When we originally designed these cake pops, we wanted to make a perfectly adorable cake pops for little ones' birthday parties, and (if we do say so ourselves) we feel like we nailed the cute part. We also wanted to create something that didn't rely on fondant for the detailing. Our classic Safari Cake Pops include 3 animal variations: lions, monkeys, and tigers (oh my!). Our favorite part to create is the lion's mane. Here's the secret, we use shredded coconut! Add some to a ziplock bag, add a little food coloring – we like to use orange and yellow and not mix it lightly so you still get variations on the mane. We used M&Ms for the nose and then edible marker for the rest. For the monkeys, we used a light brown candy melt for the mouth, and then the rest is chocolate chips in different sizes and flavors (butterscotch for the light brown).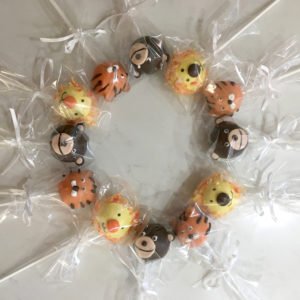 While we love the little safari gang we've created, we're always up for a challenge and are happy to create new Safari animals to join the party upon request. In fact, we once created a dessert table for a Lion King-themed birthday party and included some Timon and Pumba cake pops that turned out to be super cute too! We loved making those fondant warthog tusks for Pumba! Yes, this one definitely needed fondant for the details!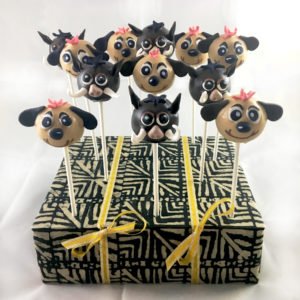 Safari Print Cake Pops
Well, Vogue called it last year: Animal print is making a come-back. And we must admit, we're very excited about embracing this trend. We first made animal print cake pops years ago and tried out a new edible paint we'd just gotten in the mail. Sadly, it didn't dry on the chocolate (even after 24 hours). And this is why you should never experiment with new products on actual orders. Lesson learned! We had to redo them and then we used melted chocolate to pipe or "paint" the designs. We recently had the chance to create some again for a special bachelorette party and we were very pleased with how these turned out (now that we knew what we were doing). These cake pops do require some time and patience, as piping the melted chocolate can be a bit tedious. Our favorite was the tiger print — so cool!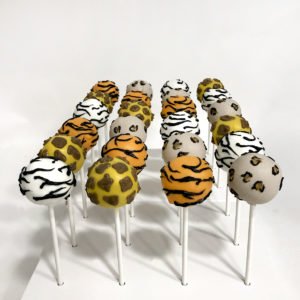 Custom Cakes: Safari Baby Shower Cake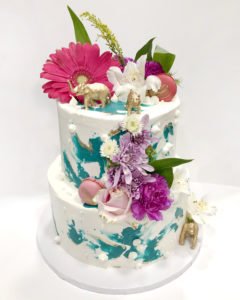 Another of our favorite Safari-themed orders was a custom cake for a Safari-themed baby shower. The client provided the color scheme and asked for a two-tiered cake to serve 45 guests. That was it! The rest was up to us. Sometimes it's even harder to create a design when the sky's the limit because we always have so many ideas! We've always been inspired by Bon Vivant's cakes in Chicago and wanted to create something similar, but with our own spin on it. We knew we wanted to use the bold colors in the flowers, but still wanted pops of color on the actual cake. We used a palette knife to paint on splashes of the teal blue buttercream which we then accented with edible gold leaf. We added some macarons because they're just so yummy and fun. And finally, we spray painted little safari animal figures with edible gold paint to tie in the whole safari theme.
We love that animal print and safari-themes are still going strong. We can't wait to see what new safari-themed desserts clients are in need of next. Maybe some elephant or giraffe cake pops? So if you're thinking of going safari for your next party or event, be sure to reach out to us on our custom ordering page so we can start brainstorming together! 
Yours sweetly,
Katherine