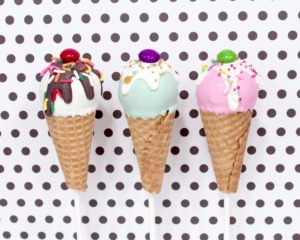 July is a month that always evokes our favorite summertime memories: running through the sprinklers, lazy bike rides in the summer heat and, of course, enjoying delicious ice cream cones. Since 1984 July has been proclaimed "National Ice Cream Month" and the third Sunday of the month considered "National Ice Cream Day". This year, we propose celebrating with a cone that we promise won't melt all over your hand: 12 Oaks' Ice Cream Cake Pops! Delicious and unique, our Ice Cream Cake Pops are a fun and different way to celebrate National Ice Cream Month. Plus, they also taste delicious with their classic ice cream cone.  
Anatomy of an Ice Cream Cake Pop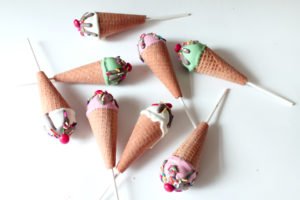 What's in an Ice Cream Cake Pop, you ask? Well, we start with our classic cake balls in one of our ten flavors, paired with a sugar cone, cut to mini-size. People often ask if we buy special mini-sized cones, but nope, just the standard ones from the grocery store will do. All you'll need to do is cut a little hole at the bottom for the stick to go through and cut about an inch off the top for the cake ball to rest on. Our first step is just like making a regular cake pop. We dip the stick in a tiny amount of melted chocolate and insert about two-thirds of the way into the cake ball. Once it's dried, we then dip the top of the ice cream cone into the candy melt and "glue" it to the cake ball.  At this point, we've created the base for our ice cream cone and it's on to the fun part: decorating and designing! 
These cake pops are customizable in so many ways, from candy melt color to sprinkles and really everything in between. We start the process by dipping the top of the cake pops in cute candy melt colors. Don't worry if some of it drips down the side of the cone – that's what ice cream does! Next, we drizzle another color of candy melt on top to mimic a classic "sundae" ice cream cone. We usually do it in a white chocolate or dark brown color, but it's up to you! We top it all off with sprinkles and an M&M or Skittle as the proverbial cherry on top. When you bite into our Ice Cream Cake Pop, it's a delightful pairing between the cake pop, drizzle chocolate, and crunchy sugar cone.
Don't get us wrong, Ice Cream Cake Pops do tend to be a labor of love — there are lots of steps to create those cuties! — but the adorable result is certainly worth the effort. We also like that these cake pops are like snowflakes: no two Ice Cream Cake Pops are the same because when we dip them and drizzle the chocolate on top, they'll inevitably turn out a bit different than the last cake pop. 
If you're looking for a real show stopper for your July events and parties, why not try our Double Scoop Ice Cream Cake Pops? With two "scoops" of cake bites, these are double the fun and oh so yummy. Visit our custom order page to order double scoop ice cream cake pops so that we can collaborate with you on flavors and design!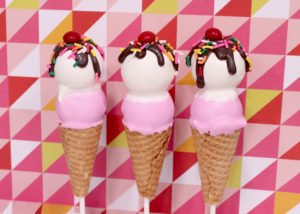 Other "Ice Cream" Treats to Try!
If you're celebrating a special occasion in July, why not make it Ice Cream themed? In addition to our Ice Cream Cake Pops, we also offer other Ice Cream desserts, like our Melting Ice Cream Cake and our Ice Cream Sundae Cheesecake cones.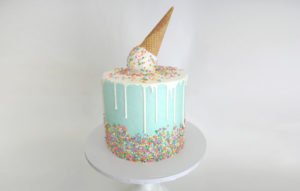 Our Melting Ice Cream Cone Cake (an ode to the one and only Katherine Sabbath who came up with the idea) is a gorgeous drip cake that showcases an extra-large melting ice cream cone (in fact, the melting ice cream is actually one of our cake pops in disguise — what a treat!). We love customizing this cake, mixing it up with colors and sprinkle pairings. This is a fun cake for anyone's birthday; from kids to adults, it's sure to bring a joyful smile to their face, even before they try a bite. For one special client's birthday event, we created an entire ice cream dessert table, complete with our Melting Ice Cream Cake and our Ice Cream Cake Pops. It's still one of our favorite dessert tablescapes. 
Another fun option for your July Ice Cream event is incorporating our Ice Cream Sundae Cheesecake Cone. Our Cheesecake Cones are a unique 12 Oaks invention (look for a blog post on these delicious treats coming soon!). We create these by filling our sugar cones with our sweet, crunchy graham cracker crust, then we pipe the cheesecake filling into a gorgeous swirl on top of the cone. Our Ice Cream Sundae Cheesecake cones boast a similar design to our Ice Cream Cake Pops. You'll notice from the picture that we include special accompaniments like a chocolate-dipped rim, chocolate drizzle, sprinkles and a "cherry" on top.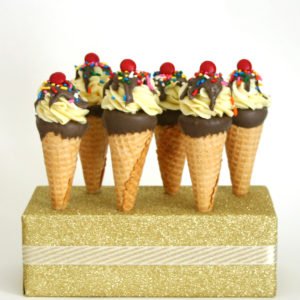 This year, why not enjoy all the Ice Cream treats in your arsenal? From Ice Cream Cake Pops to Ice Cream Cake to Ice Cream Sundae Cheesecakes, we're here to think outside of the box and delight your palate this July. Order any of 12 Oaks' Ice Cream themed treats this July and also enjoy 10% with code ICECREAMDAY2020!
Happy National Ice Cream Month, everyone! 
Yours sweetly, 
Katherine & Missy