Here at 12 Oaks, we're always trying to think of new ways to make our desserts more fun and interesting. From entirely new products to clever tweaks on our existing treats, we like to keep it fresh and delightful.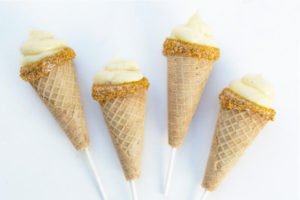 Our Cheesecake Cones came to be from several such brainstorming sessions. We asked ourselves, what would be an exciting and fun way to deliver individual servings of cheesecakes? We were very inspired by Nectar and Stone, an Australian bakery that was creating a lot of desserts in cones. And just generally seeing a lot more "cone" desserts. We'd already created our "Mini Cheesecakes", which are individual servings in glass jam jars or cupcake liners, but we liked the idea of being able to eat the dessert without utensils or on the go. Plus, we're always looking for more ways to be environmentally friendly and cheesecake in a cone is the perfect no-waste individual serving! And as a result, Cheesecake Cones were born! 
Anatomy of a Cheesecake Cone
In today's world where we're all working to create less waste, desserts served in cones feel like a no-brainer, so we took to the concept of Cheesecake Cones with excited gusto. But how to best translate our classic cheesecake into a cone?? The elements of a cheesecake, graham cracker crust, smooth, rich cream cheese filling, needed to be showcased in this new medium. 
In the end, we decided to bake our full-size cheesecakes before transforming them into Cheesecake Cones. (Our special cheesecake recipe is a well-guarded family secret and our cheesecakes are much beloved by clients so altering the recipe to create a "no-bake" cheesecake is a non-starter for us.) Instead, we create a full-size cheesecake, then use the graham cracker crust to fill the sugar cones with pieces of crunchy, delicious graham cracker crust. Then we pipe the cheesecake filling into a gorgeous swirl on top of the cone. Who knew cheesecake filling could be piped – we didn't until we tried! We find the sugar cone adds a nice extra crunch and texture to make for the perfect bite. And in our opinion, cheesecake in a cone is just so eye-catching! Delicious: check! Fun: check! Unique: most definitely, check! 
Fun Accompaniments
We offer 5 delicious flavors for our Cheesecake Cones, including Citrus, Classic NY style, Cookies & Cream, Strawberry, and Pecan Pie. One of our favorite parts of designing our Cheesecake Cones was deciding which accompaniments make sense for each flavor and how best to arrange for the cones to create the ultimate "wow-factor". Our three design faves are our Classic NY, Citrus and Strawberry. 
Classic NY is the ultimate in class, topped with a gold-dusted raspberry, chocolate-dipped graham cracker (doubles as a little scoop/spoon) and a light wafer straw. We love how the Classic NY cheesecake cones remind us of a fancy date-night in Manhattan.  
Our Citrus flavor is a lemon-lime sensation and it's just the right amount of tart. We like to pair this flavor with a sprinkle rim along the top of the cone, to give it a little sparkle. Then we also include a candied lemon wedge and again the graham cracker scoop to finish off the cool design.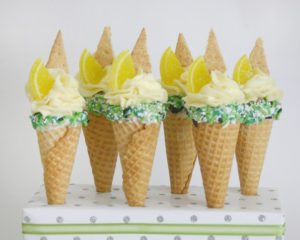 Our Strawberry Cheesecake Cones are a sweet delight and these treats stole our hearts from the moment we saw their beautiful pink color piped into their cones. With a hot pink sugar rim surrounding their cones and topped with a gold-dusted, perfectly ripe strawberry, we can't help thinking that these are the prettiest in pink treats that we've seen. 
Custom Designs 
We've also created some extra-unique cheesecake cone designs for special occasions. For one young client's first birthday party, we used food coloring to create a blue classic cheesecake prior to piping into the cones. We also incorporated blue sprinkle rims and edible silver leaf to complete the look.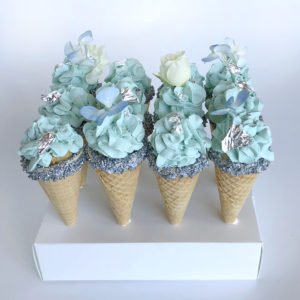 We've also created cheesecake ice cream sundaes, again using our classic cheesecake recipe and special accompaniments of a chocolate-dipped rim, chocolate drizzle, sprinkles and a cherry on top. With the cheesecake sundae, we loved the pairing of the rich cheesecake with the chocolate drizzle — very decadent!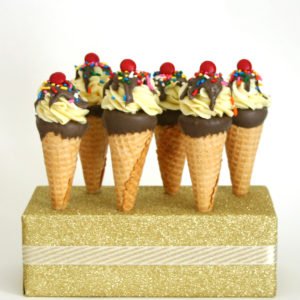 Our Cheesecake Cones have a special place in our heart and we love creating them — especially custom additions! If you're looking for a unique treat for your next birthday or party, definitely try these.
Yours sweetly, 
Katherine