So your bestie is having a baby! It's such an exciting time! And if you're taking on the important (and possibly overwhelming) task of planning the shower. Congrats! You're an amazing friend. 
There are so many factors to consider during the planning — from where to hold the shower to should it be co-ed to game or not to game. And then there are the desserts, which can be such a fun way to celebrate the new addition with friends. Well, we're here to help ease some of the stress of planning the perfect baby shower. 
Read on to find out some of our favorite baby shower dessert options, in addition to some tips and tricks from the 12 Oaks Team. Happy planning!
PS: We recommend including baby shower games as they're a great ice breaker!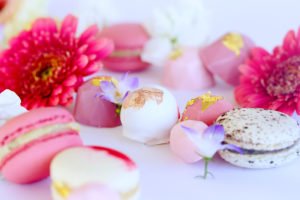 He or She, What Will It Be: The Baby Shower Reveal
It can be so fun and exciting to find out what the baby will be. And including a gender reveal, or sex reveal as it's also called, as part of the baby shower is a special way to include friends and family in the joyous moment. There are several ways to incorporate a reveal into the dessert portion of the party, but one of the most popular is the cake cutting reveal. Two common cake reveal methods involve using blue or pink food coloring in the cake batter or in the frosting so upon cutting the cake, you're met with pink or blue. Coloring the frosting is a good option if you're a chocolate fiend like us and wouldn't be able to color the actual cake.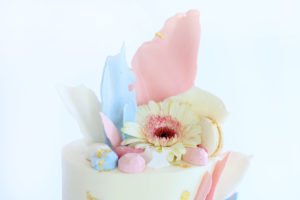 Next Level Baby Shower Cake: Sprinkle Bomb
We like to up the ante a bit, though, and often suggest using a sprinkle bomb to reveal. This method really ups the "wow factor" and makes the reveal that much more exciting. We incorporate a sprinkle bomb by first cutting a hole into the middle of the cake and placing blue or pink sprinkles and candies into the hole. We replace the top bit of cake and then frost and decorate as normal. When the parents-to-be cut into the cake, they're met with blue or pink candies spilling out. It's such a fun way to add to the reveal and definitely adds to the pizzazz of the party. 
Baby Shower Dessert Tablescape
We adore designing tablescapes and a baby shower offers so many opportunities to create a breathtaking dessert table. One table we designed, with help from the Mom-to-be, centered all around their nursery color choices of yellow and pin. We designed our Fancy cupcakes for the event with yellow and white frosting topped with macarons and yellow flowers. We loved how everything on the dessert table came together and complemented each other from the cute cupcakes to the gorgeous blooms, to the lemonade carafe, it was as elegant of a tablescape we've ever created.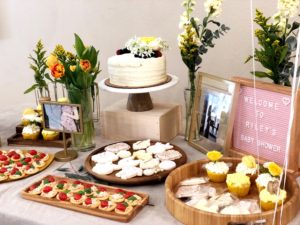 The Mom-to-be even matched the yellow decor with an adorable yellow dress (too cute!). With dessert table planning, the sky is really the limit — you can customize it all from the color palette to the dessert options (ie. cookies, cake gems, mini cheesecakes, cake pops, you name it!) to all of the accompaniments.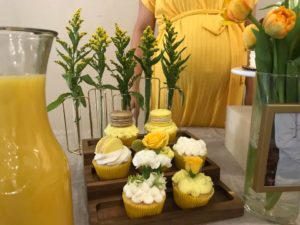 Baby Shower Themed Desserts
Working with a theme for the party? Party themes are our bread and butter. We love designing around a theme and coming up with adorable designs for cakes, cake pops, and cupcakes alike. For baby showers, we recommend incorporating custom cake pops because they turn out so cute. For example, with the yellow tablescape shower, we designed custom bumblebee cake pops, which were an absolute hit with the shower guests.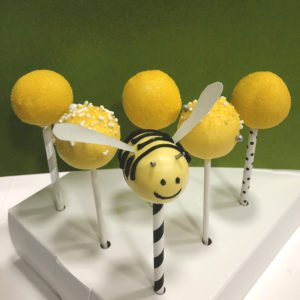 For theme ideas, you could use the baby's nursery theme. Some fun examples could be sports, safari animals or under-the-sea (our pufferfish cake pops are especially aww-inducing) but we love the mermaid cake pops too!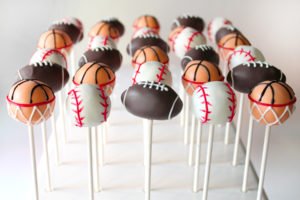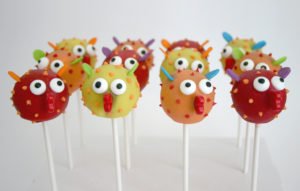 For larger parties, custom themed cakes are a great option. We once created a 5 Little Ducks cake for one Mom-to-be.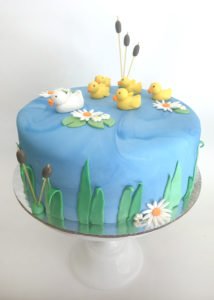 With so many options, it can feel overwhelming when making these decisions. But not to worry, that's where we come in. We like to chat with clients either over email or on the phone to iron out all of the key questions, i.e. whether there is a party theme, what their likes and dislikes are, etc. 
With that vital information in hand, we'll take some time to brainstorm ideas and options, then come back to our clients with some options (including example pictures) to discuss. It's always a collaborative process and we're there to help you along the way to make planning easy and fun.
A Quick Note About Baby Shower Games…
We wanted to share a quick tip about baby shower games — we think they're a lot of fun and a great ice breaker if you're bringing together lots of different friends and family groups for the baby shower. One special activity that's super easy to organize was actually done at Missy's baby shower. The activity was secret letter writing for the mom-to-be. Each guest wrote a quick note on a card for Mom, whether it was words of encouragement or parenting advice or just some funny jokes. Then the planners collected the cards and once Missy's son was born, they mailed 1 or 2 cards per week. The cards were a complete surprise since Missy had forgotten about that baby shower activity. And it was so welcoming to hear from many close friends during maternity leave, which can be such an exhausting and kind of isolating time. Missy kept all of the letters to this day!
Yours sweetly,

Katherine & Missy