Does your little one have a love for all things Superhero? Or is your partner the superhero in your life? At 12 Oaks Desserts, we love a good Superhero themed party, whether it's a party for a child or a kid-at-heart, there are so many options to make the desserts fun and unique. We've had the opportunity to create desserts for a few Superhero birthday parties in the past and wanted to share some of our favorite designs. 
Superhero Cake Pops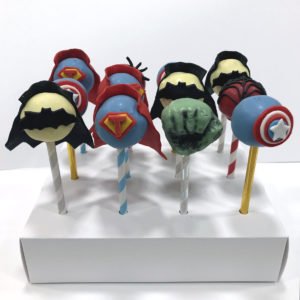 Our Superhero cake pops were so much fun to design and make! These were for a special client's 8th birthday party. We chose to use each hero's icon on their respective cake pops. Our favorite was making the Hulk's fist — it came out (as intended) a little rough and felt like the perfect embodiment of the Hulk in cake pop form. We used fondant for the capes and details on the other cake pops, and chose color-coordinated straws for each hero. Did you notice the "T" on Superman? No, it wasn't a mistake, we used the birthday boy's first name instead!  We are big believers in the motto that it's the little details that make the finished product feel just right. 
Superhero Cakes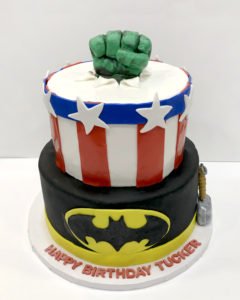 We've had two opportunities to design and create Superhero birthday cakes. While fondant isn't always our first choice, for both events' cakes it was needed to create the looks that the clients had in mind. In the cake on the left, we used the fondant to create the ripped effect of the Hulk's fist punching out of the cake. As we hadn't ever created a fondant fist before, it took a few tries to get it right. The easiest way we found to make it was to create an actual flat hand out of fondant (think Kindergarten art project), then bend the fingers into a fist and finally sculpt and add details from there. Adding some black petal dust gave it that gritty and rough look which we loved. We enjoyed creating this top tier as it evoked a sense of action that you typically can't capture when designing a cake. The two-tiers allowed us to incorporate a lot of different Superhero elements. The birthday boy's favorites (as you can see) were Batman, Captain America, Thor, and the Hulk. 
Our second Superhero cake was for a special 5-year-old's birthday celebration. They were in need of a cake to serve 30 guests and we landed on a square design to allow us to incorporate the birthday boy's four favorite superhero characters: Iron Man, Batman, Spiderman and Superman. Again, fondant was a key tool in achieving the right look for this cake, in order to include the superheroes' four signature colors in each corner. As an added bonus, the quadrant design was helpful for the parents so they could easily cut pieces from each child's favorite superhero. At a child's birthday party, any way to make the cake distribution go faster is a plus! We again added some black petal dust and black fondant detailing to create a more industrial and gritty look for the cake. We also used edible images for the logos to ensure they were perfect. Next time we'd probably use some superhero cookie cutters (JB Cookie Cutters has an amazing selection and we love them), but when you forget to order them in time and are in a pinch, edible images can save the day. 
What's Next For Our Superhero Cakes
We are always brainstorming in the kitchen at 12 Oaks and thinking of new ways to expand upon our designs for specific themes. For our Superhero treats, there are plenty of options and opportunities to make a Superhero party special. One idea we'd love to create one day is to do a hero vs. villain party, where we could design cake pops for both the heroes and their most iconic villains. We also like the idea of doing a dessert table and incorporating different dessert mediums for different heroes. As an example, we could make some green dirt pudding for hulk or special marshmallow "hammers" for Thor, in addition to cake pops or cupcakes designed around the other Superheroes. Truly, there are so many ideas to choose from! And at 12 Oaks we prefer to design around a client's preferences to make the party unique and special for them. So contact us here to start discussing your next Superhero birthday party! 
Yours sweetly,

Katherine & Missy