We can't say enough times how much we enjoy designing epic cakes and dessert tables for children's birthday parties. There's really something magical about a child spotting their cake (or desserts) for the first time and their complete look of awe and joy. What's even better is the opportunity to recreate, redesign and improve upon those themes.
Jurassic World Dessert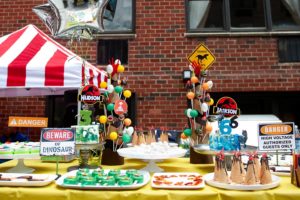 As an example, last fall we created an epic (if we do say so ourselves) Jurassic World dessert table for two very special clients. We've had the pleasure of designing dessert tables for these two youngsters for the past 5 years, and their parties are always a blast to plan. Their Mom is a huge help with the brainstorming process, typically we land on a theme and discuss ideas for what we might make, from cookies to cake pops to their always incredible cakes. Last Fall's theme was Jurassic World, and we were thrilled with the opportunity to create our first dinosaur-themed dessert table. With the movies in mind, we were able to create some custom desserts that were "firsts" for 12 Oaks Desserts, like the Dinosaur Bones (white chocolate covered pretzel sticks) and Test Tube Drinks (filled with Kool Aid).
Our favorite new creation was our Mini Candy Volcanoes, which were upside down sugar cones, filled with popcorn or candy, with a licorice "eruption".
With two birthday boys, we always make them each a special cake, and the Jurassic World party was no different. One birthday cake was designed with a fondant dinosaur claw halfway out of the side of the cake. The other had an actual toy dinosaur emerging from the cake. The clients were completely wowed and the guests had a blast identifying all of the different treats and giving them a try.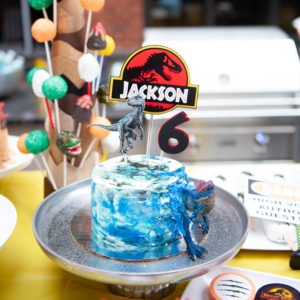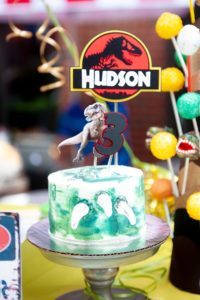 Dinosaur Themed Birthday Party
Then this past January, my very own nephew turned 4 and requested a dinosaur-themed party after seeing 12 Oaks' pictures of the aforementioned Jurassic World dessert table. After some price negotiations and securing a $5 deposit from his piggy bank, we settled on a dinosaur cake, dirt pudding and cake pops. But the birthday boy gave me total creative control of the desserts, making for an exciting opportunity to create something new and amazing.
Dinosaur Cake
The first dinosaur party included a birthday cake with a plastic dinosaur actually breaking through the cake. This design made for a really cool look, but the dinosaur embedded in the cake made the cake's integrity a little weaker, so I was looking for a new direction to go with dinosaurs. What I started to get excited about was creating a landscape for several dinosaurs toys, centered around a volcano cake. With a funfetti flavor and chocolate buttercream icing, I design a three-tiered cake, cut into a volcano shape, complete with a fun sprinkle bomb in the center. Because we don't know what's in the center of a volcano! With red and orange isomalt "flames" at the top of the volcano, the effect of the eruption was achieved and looked amazing, but I wasn't totally satisfied.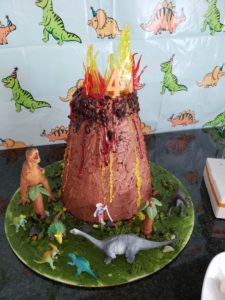 And then I started thinking about how to really surprise our nephew, asking, what if the volcano erupted?? After a little brainstorming session on how to make that work, I included a recessed bowl at the top of the volcano where I could include dry ice. After arriving at the party, I borrowed a few dinosaur toys from my nephew and scattered them around the base of the volcano cake to create the effect of a "dino"rama. I got lots of "ohhs" and "ahhs" from the party guests when they walked by and started to get very excited for the main event.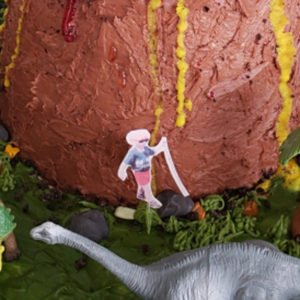 When it came time to sing Happy Birthday, we crowded around the table and I poured a little water over the dry ice and the volcano began smoking. The effect of the smoking volcano really impressed my nephew and his friends — there were some jaws that hit the floor! Another special touch that my nephew was excited about: we used a recent picture of him hiking, printed it on edible paper and included it with the toy dinos. His reaction: "Hey, that's me!" It was like he was part of the dinosaur diorama!
Cake Pops and More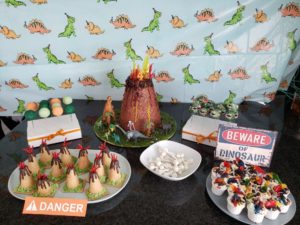 This dessert table was a blast to design and create. One thing we really appreciated about these two parties was the chance to create custom desserts to wow our clients and the opportunity to expand on ideas from past parties. And while the volcano cake stole the show, we also incorporated T-Rex cake pops, Dinosaur Bones, our Mini Candy Volcanoes (this time we added buttercream "grass") and Dirt Pudding.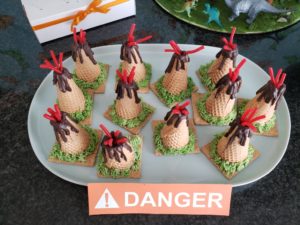 It was truly a relief that there was a bounce house for the kids to jump off their sugar high. And my nephew loved it so much he's already making plans for next year's birthday party! Preliminary idea: tiger themed!
Yours sweetly,
Katherine & Missy